Webhooks
Webhooks are a fantastic resource for automatically passing specific information to another system. This might be whether your lead has sold or it could be when your export schedules have fired.
Head to the Admin tab > Tech Hub > WebHooks > Add new Webhooks to see more
Available Triggers/Type of webhook:
- Sent SMS
- Export Schedules Tiggered
- SMS Delivered/Undelivered
- Lead Sold/Unsold
Setting your webhook up:

Our most commonly used webhook is the leads sold/unsold. So below is some guidance on the options you have available to you.
Lead Sold/Unsold specific fields: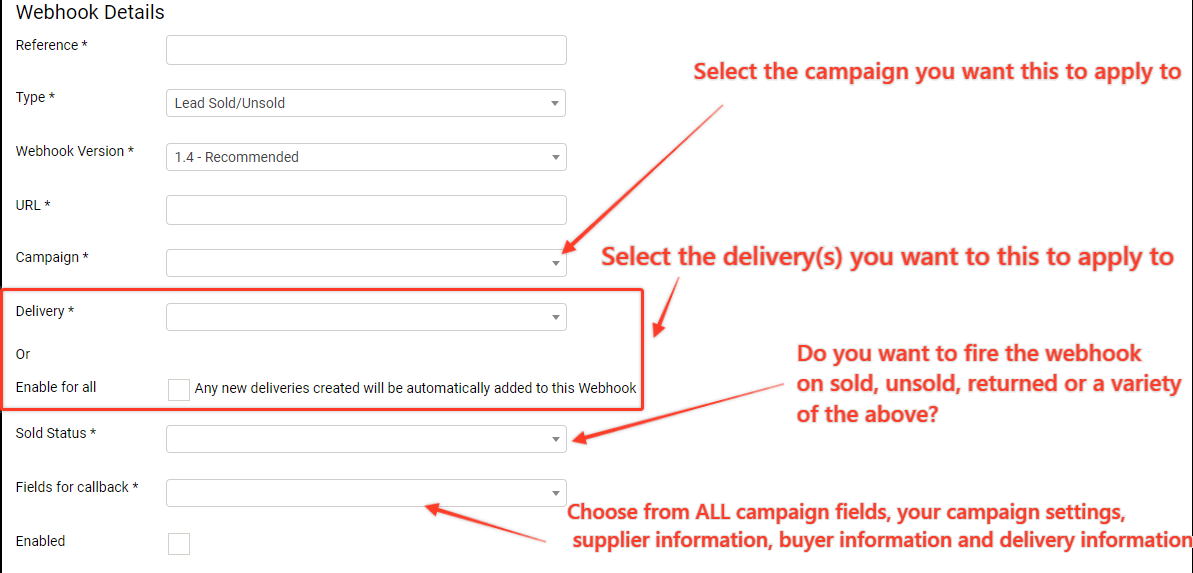 The leads sold/unsold has a huge amount of information and flexibility it can offer and will be replacing our lead feed in the near future.
However if you're feeling confused at setting this up, please raise a support ticket.

Data will be posted to the URL you have entered in JSON format.

Sample SMS Data
Note: Any personal data is replaced with Hidden
{ "callbackType": "SMS", "count": 1, "records": [ { "status": "Sent", "leadId": "446907", "number": "HIDDEN", "body": "Hey Anthony, thanks for your click!", "sentAt": "2018-12-15T14:25:07Z", "campaignId": "2", "responderId": 5, "pushId": "9", "type": "Responder", "parts": 1 } ] }
Sample Export Schedule Data
Note: Any personal data is replaced with Hidden
{ "callbackType": "EXPORT-SCHEDULE_TRIGGERED", "count": 1, "records": [ { "reference": "MobileUK",
"campaigns": [ { "id": "2", "name": "Premium MobileUK", "reference": "MobileUK" } ],
"created": "2019-02-01T10:17:28Z", "createdBy": "Anthony Burgin", "method": "Email", "release": "Hourly",
"recipients": [ "HIDDEN@HIDDEN.co.uk" ], "runTime": "2019-02-01T19:05:07Z", "lastRunTime": "2019-02-01T19:05:07Z", "leadCount": "153", "captureMethod": "API, Import", "fileFormat": "CSV", "delimiter": ",", "compression": "ZIP", "encryptionType": "", "files": [ "MobileUK_169_01-02-2019.zip"
], "errors": [ ] } ] }
Sample SMS Delivered/Undelivered
{ "callbackType": "SMS-DELIVERED_UNDELIVERED", "count":1, "records": [ {"status": "Delivered", "leadId": 173, "timestamp": "2019-10-10T11:15:19Z", "responderId": 0, "pushId": 7, "queue_id": 89, "type": "Responder", "actionType": "New" } ] }
Sample Lead Sold/Unsold
{
"callbackType": "LEAD-SOLD_UNSOLD",
"count": 1,
"records": [
{
"deliveries": [
{
"reference": "Buyer 1",
"status": "Sent",
"sentAt": "2020-04-28T11:16:47Z"
}
],
"lead": {
"id": 1287,
"email": "leadbyte@aol.com",
"firstname": "Sam",
"lastname": "Test",
"received": "2020-04-28T11:16:44Z"
},
"campaign": {
"name": "Example Campaign"
},
"supplier": {
"name": "Supplier 1",
"status": "Valid",
"commission": 1
},
"buyers": [
{
"name": "Buyer 1",
"revenue": 10
}
],
"callbackReference": "Webhook 1.4 Example"
}
]
}