File schedule deliveries explained
Using file schedules enables you to deliver your data via email or FTP in a variety of formats in an automated way (schedule). For example, if your client wants the previous days leads to be delivered via email as a .CSV file everyday at 6am, you would do this via export schedules.
Schedules can be 15 Minutes, 30 Minutes, Hourly, Weekly, Daily or Monthly. There is an option to customise schedules too; for example, you may want to send leads at 1pm and 6pm (twice daily) Monday-Friday.

Step 1
Start by heading to your export schedules (delivery tab > manage file schedules) or by creating a new export schedule:
Step 2
Select the Campaign and any other export particulars such as the Capture Type (API and/or imported leads), Compression Type, File Format, Encryption Type etc.

File Names Tips:
IF you want to include specific date values or a unique export reference, you can read more here:
https://support.leadbyte.co.uk/hc/en-us/articles/360000072883-Export-File-Tags

Step 3
The scheduling is down at the "Schedule Export" section of this page. At this stage you need to enter in a reference (friendly name) and select either Email or FTP. If you choose email, you can enter in a From Name (Your Company Name), Subject Line, Recipients (email addresses) and the body content. For FTP, you will need to create the FTP details (host, username, password etc). Please remember to test the connection and save the details.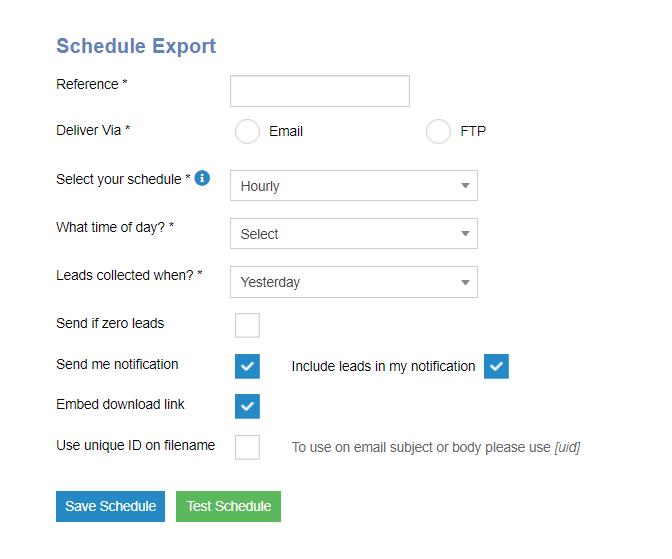 FTP Tips:
When testing, common reasons for this failing include wrong credentials, IP authentication is enabled on the FTP (speak to your client). Furthermore, we have found that testing a schedule may work but the actual export fails. The reason being that the FTP Path (where the file is saved) may only have read-only permissions. For this we always advise that you not only test the connection but also the schedule.


Step 4
The final step is to define your schedule. This should be self explanatory. You can send your schedule hourly, daily, weekly, monthly or on a custom basis.
Scheduling Tips / Definitions:
- Do not tick "Send if zero leads" if you do not want the schedule to run if you have no leads.
- Tick "Send me notification" if you want to receive an email when the schedule runs.
- Embed download link is useful if you want to enforce security of data or avoid large files being blocked by your clients Email provider.
- If you want a unique file ID tick "Use unique ID on filename". This tag can be used in email body, subject line and file name.
Once you've decided on everything, simply test the export schedule and save it.