Facebook Forms - 🎥
If you are running any Facebook LeadAd Forms you can link these directly into your campaigns within a few clicks so you don't have to manually download leads from Facebook. By connecting your Facebook lead ad forms to your LeadByte campaign you benefit from real-time lead transfer, which is critical if you are selling leads or using auto-responders to nurture leads.

STEP 1 - Facebook Checks BEFORE you proceed
1. You need to be Admin on the Facebook Page
2. If you use Facebook Business Manager, you need to be an Admin on the Ad Account
3. You need to be assigned to the "Lead Access" permission
4. Read this entire article.



Without the above in play, you will not be able to see the page (to connect to the form) OR retrieve the leads automatically. Please ensure the above is setup.

STEP 2 - Create Your Facebook Forms
This is a must read!!
Fields Mapping
It is important that you make sure your Facebook LeadAd form fields are mapped to the right LeadByte campaign fields before you save and publish the form. Here are some key points you should check IF when testing from Facebook you do not see the leads in your LeadByte campaign:

A) Make sure that your Facebook fields match those in LeadByte.
For example, if you want to collect phone1, make sure the field in facebook is called phone1 (not telephone). See example below.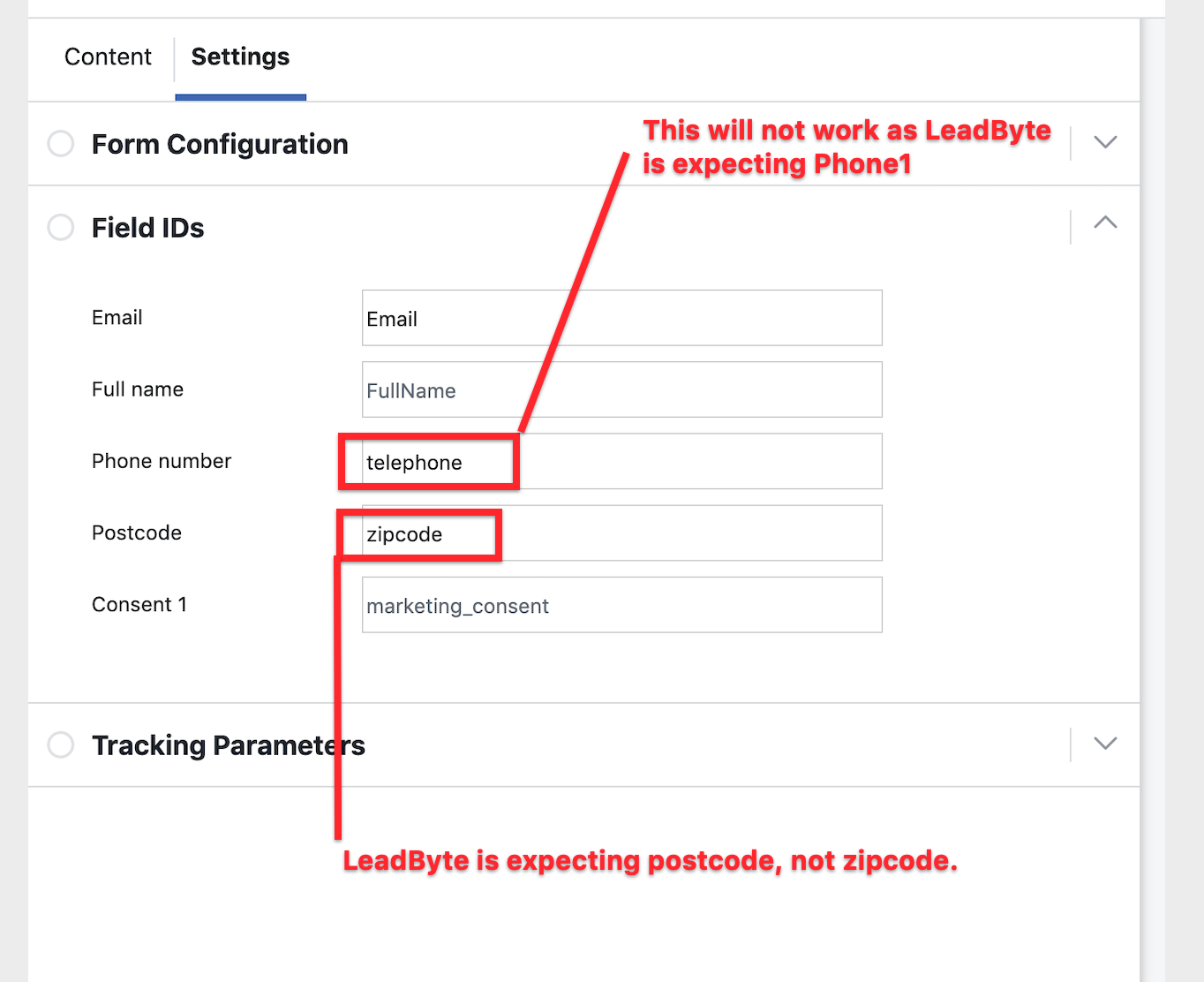 B) Remove spaces from field names in Facebook.
Facebook will replace a replace with an underscore (_). If you had the field name Phone 1 in Facebook it would post Phone_1. Best to concatenate or underscore!

C) Check LeadByte system rejections.
It maybe that LeadByte rejects the test because it is a duplicate, missing a required field, incorrect DOB format (by default Facebook post MM/DD/YYYY format, by default we accept DD/MM/YYYY but you can change this in LeadByte) etc etc

Facebook does not allow you to edit the fields once it is live. The way around this is that you would have to copy the form and start over again. Remember, if you do this, you will need to go back into LeadByte and connect to the new (copied) form.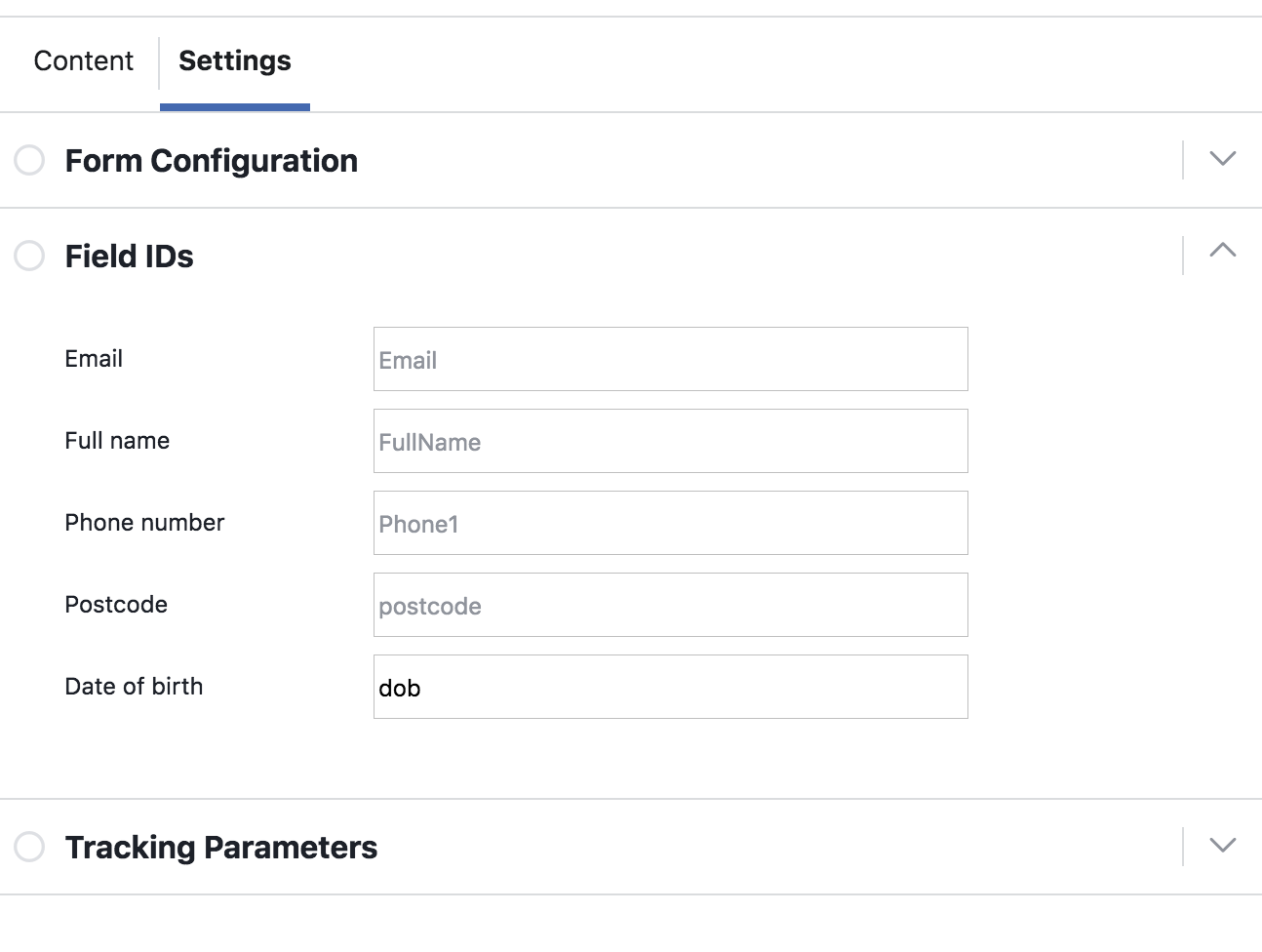 After mapping your fields be sure to include tracking parameters to help identify which Form is performing the best.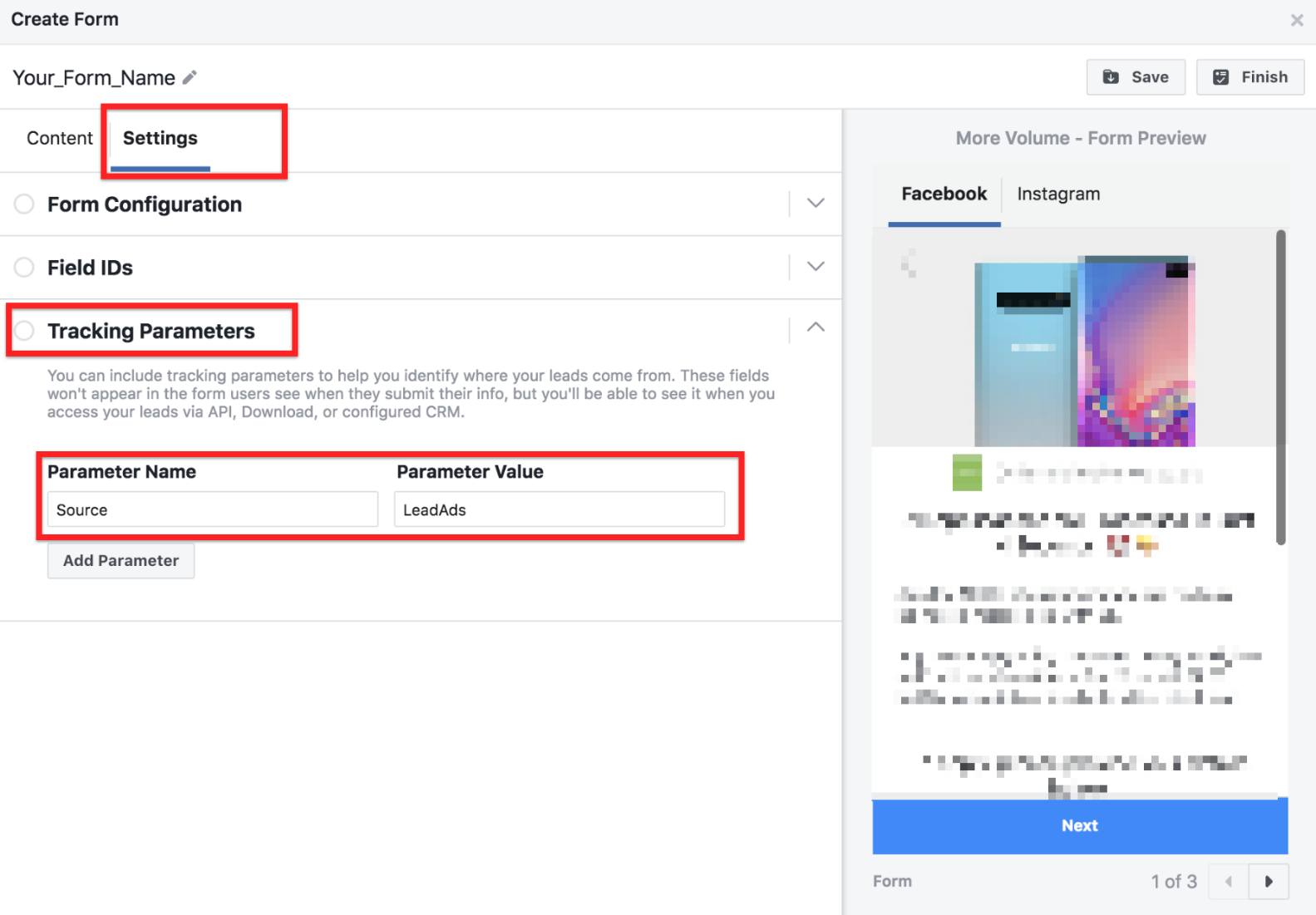 In this example, we've mapped the parameter name to source and the value to LeadAds

STEP 3 - Connecting to Facebook from LeadByte
You connect to Facebook forms from Campaign Settings within LeadByte. To get started, edit your campaign and scroll down to "Facebook Leads" section (If you don't see it, speak to your account manager).


After creating your Facebook LeadAd forms within the Facebook ads manager you will then need to authorise Facebook as a supplier in the campaign settings within LeadByte.
Once you have done this, you should be able to navigate your way through the select options. Our advice is that you create the supplier Facebook and associate all leads to this supplier (makes sense right!?). You should see something like this...


Please ensure that you connect to the Facebook form that you intend to publish live. If you do your testing against a form that is not your Live Ad form, you will not see any leads come into LeadByte.
STEP 4 - TESTING

Facebook Testing Tool
We advise that you test from Facebook using their testing tool before pushing live. This can be found here: https://developers.facebook.com/tools/lead-ads-testing (Make sure you are logged into Facebook). We advise that you test using both the "Create Lead" function AND the Preview Form Test function. The latter is more a true representation of how Facebook will submit the data you want to collect.

If you do not have a WEBHOOK subscription with the LeadByte APPID, it will not work!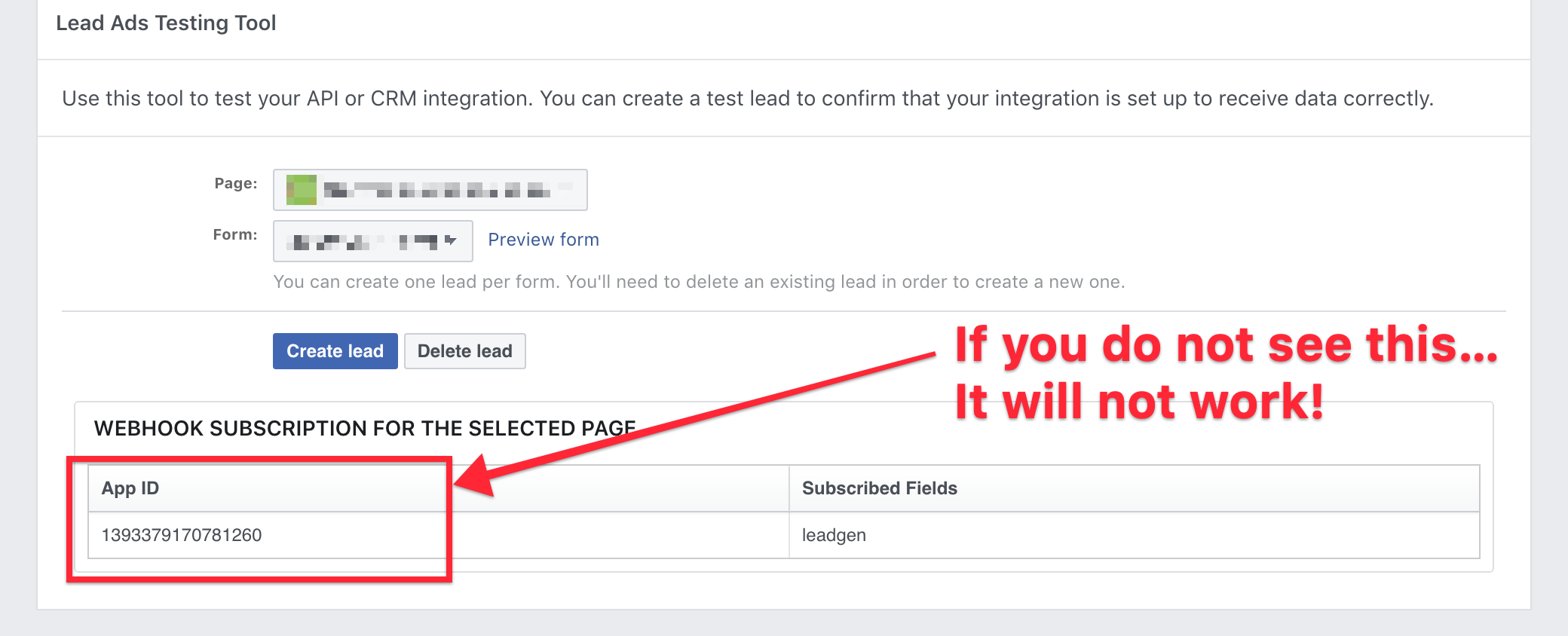 Handy Stuff
Changing Passwords - be aware!
This integration works on tokens. By changing your FB password, you break the token meaning your leads will not be collected on LeadByte. You would have to re-authenticate. A client had an incident where FB logged them out due to suspicious activity, this also broke the token. If this happens, remember you can always download your leads from Facebook.
Are you connected to the LeadByte App?
This is our app: https://www.facebook.com/business/help/262210457734906/leadbyte
This is our APP ID: 1393379170781260
Once you are connected, you should see this under Publishing Tools.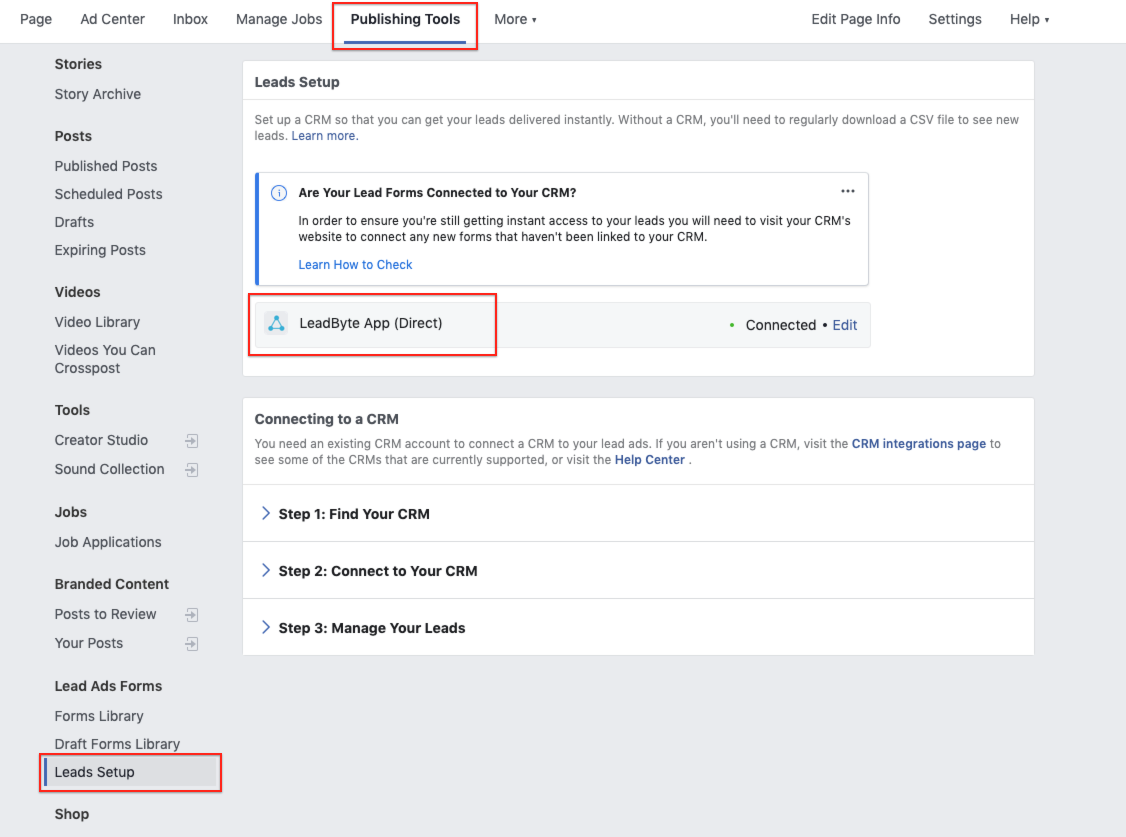 Once you are connected, you should see this under Business Settings.



Can't see other pages?

Really annoying FB thing! If you can not see other pages but you are connected to at least one, you will need to check the app permission here: https://www.facebook.com/settings?tab=business_tools This is under your private Facebook page. Select the LeadByte App (Direct) and tick the pages that you want to grant LeadByte access too.